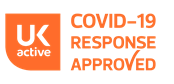 Our Centres are open and ready for you to return to exercise with us.
The government confirmed on Monday 12th July that several covid restrictions would be lifted as part of their stage 4 road map from Monday 19th July. 
What does the stage 4 easing of restriction mean for you and us? 
Facilities 
Our centres will be open as per our centre opening times and we can now accept walk-ins. You do not need to wait outside for your activity. Please see the booking information below for individual activities as you may be required to book in advance. 
We will only accept card payments, no cash at our centres. Gym, swim and exercise classes can be paid for on our app or website. 

We will remove the one way systems. You can move freely around our centres and enter and exit through the main doorways. Please follow standard centre rules and guidance at all times and abide by staff instructions. 

Changing rooms, showers and lockers will be open and available. 

Sauna and Steam rooms will reopen. 

We will keep the gym cleaning stations in action to encourage all users to clean equipment before and after use. 

Hand sanitation stations will remain around our centres for you to use. 

Reception screens will remain in place. Would you please respect our staff members by standing behind the screens at all times. 

Face coverings are still not mandatory but you are encouraged to wear them when walking around the building. You do not need to wear a face covering when working out. 

On arrival, please scan the NHS QR code. NHS QR codes are displayed at the entrance of our centres and reception.

To confirm your activity attendance, please self-swipe on arrival using the self swipe scanners located at reception. 
Activities 
You will notice several changes to our activity timetables including additional gym, swim, and group exercise sessions. Several of our activities will have increased capacities to support those activities with waiting lists. 
Booking your activities with us
Booking privileges remain the same, five days for members and three days for non-members. 

Activities can be booked on our app or website unless otherwise stated.

Would you please arrive no more than five minutes before the exercise class start time.

Please self swipe on arrival at reception - This confirms your activity attendance. 

Cancellation policy remains in place; all activity cancellations must be made at least 4 hours before the activity start time. All cancellations within four hours will be charged a cancellation fee and a strike applied. 
Swim School Swim Lessons
We will be offering a four week course at Newton Abbot Leisure Centre and intensive lessons at Dawlish Leisure Centre this Summer. For more information and to book, please click here. 
What's changing?
We will increase lesson availability where possible.

Lesson spaces will increase to pre-covid levels. 

Our September term will revert to a full term. Our next re-enrolment will start from Monday 19th July, for our new term dates, course costs and what you need to do, please click here. 

We will remove all limits on spectators. 

Adult swim lessons will return to our centre programmes. 
Gym
Our gym will now be open during centre opening times.
This means: 
You can turn up and use the gym as and when you like but we require you to book your arrival time - this could be as simple as booking your arrival time once parked up in the centre car park. We need this so we know who is using our facilities. 

Once you have booked your arrival time, please self swipe to attend your gym session at reception. 

There is no limit on the amount of time you can spend in the gym.

We will not be accepting gym bookings over the phone or at reception. You can book on our app or website. 
Personal Training
Our trainers have returned and are ready to support you in your journey to an improved physical and mental well-being. To book in for a personal training session, please speak with a member of our team. 
Group Exercise Classes 
No significant changes to exercise classes apart from class capacities will increase, where possible, to accommodate sessions with waiting lists. 
We will not be accepting exercise class bookings over the phone or at reception. You can book on our app or website. 

On arrival, please scan at reception to attend your exercise class session. 
Swimming
The following sessions are returning or increasing on our centre programmes: 
Lane swimming.

General swimming + a lane. 

Fun swims - fun swims will replace family swims. 
Please book your arrival time for lane swimming on our app or website.
You are only booking your arrival time. You can stay for as long as the duration of the session allows. 

Please remove footwear prior to entering the changing rooms. 

No footwear on poolside. Please use the lockers provided. 

Changing rooms, showers and lockers will be available. 
Indoor Sports
No restrictions. 
Please call us to book in for squash, badminton or table tennis. 
Memberships 
Freezing your membership with us.
If you do not wish to return just yet due to covid restrictions, we can still freeze your membership for you until you are ready to return. We accept covid related freeze requests to memberships until Monday 19th July, after this date, our standard Terms and Conditions to freezing will apply.
If you have a pre-existing freeze with us, please refer to your end date in your original freeze confirmation email.
Updated: 13.07.2021
Other Services
Services that will remain closed / suspended until further notice:
Trampolining (aiming for a September start)

Birthday Parties