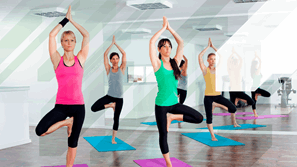 Our Exercise Classes are available across our three Leisure Centres, Newton Abbot Leisure Centre, Broadmeadow Sports Centre and Dawlish Leisure Centre. Our instructors are experienced, knowledgeable and the best locally in delivering classes to all levels and abilities. 
New and returning exercise classes added to our timetables:
Step - coming soon

Pre and post-natal exercise classes - coming soon
Whether you're a beginner with us or don't have much fitness knowledge, group fitness classes may be your solution. Joining a class can help build a foundation and structure that you can use to fuel your health journey for years to come.
Types of classes available
Please select a class to find out more about where it takes place, what to bring and what to expect. 
Mind and Body
Refresh and invigorate from head to toe with our mind and body classes achieved through stretch, balance and stability. 
Aerobic / Choreography 
Dance based classes to improve aerobic activity. 
Indoor Cycling
Bring the outdoors inside with high calorie burning at varied levels to challenge you. 
Conditioning 
Tone, shape, or build your body with our selection of strength classes. 
Aqua
Energise yourself with aerobic routines or lane swimming with specialist coaching.
Social Sports
Working out with us 
Already a member? 
All exercise classes are included in the Jam Packed Adult Membership. Water-based exercise classes are included in the Jam Packed and Aquacize Membership. Pay As you Go members and Aquacize members can upgrade to a Jam Packed Membership or Pay As You Go to participate in all our dry-side exercise classes. 
Not a member? 
Our fantastic membership packages offer a range of activities to help you achieve your goals. 
Not ready for a membership? You can create a free Pay As You Go Member Account. 
Our Pay As You Go prices are available on our price list. 
Booking your exercise class
Please pre-book your exercise class on our app or website. 
Booking privileges:  
Jam Packed and Aquacize Members - ten day booking privilege.

Pay As You Go Members - seven day booking privilege.
Please book on the Teignbridge Leisure App or your My Profile account. 
When to arrive
At least 5 minutes before the class start time to get yourself set up and ready.
We have free centre parking for all users for up to a maximum of three hours. 

On arrival, please self-swipe at the self-swipe scanners - This informs our system you have attended the booked session. 
Changing facilities and lockers are available.
You can purchase a locker token from reception. Please note that we are only accepting card payments. No cash.

Please remove footwear before entering the changing facilities and shower before entering the pool.
Membership benefits
Go all-inclusive with a Jam Packed Adult Membership.
As an all-inclusive Member, you will benefit from the following:
Gym (to include gym induction and journey appointments).

Exercise Classes (dry and pool).

Public Swimming.

Sauna and Steam Room (16+).

Indoor Racket Sports Court (share), including squash and badminton.

Sports Courses - Trampolining / Swimming Lessons.

Outdoor Swimming - Teignmouth Lido.

Entry to Shaldon Approach Golf.

Advanced Booking Privilege: 10 days in advance for members.

Online Classes and On Demand Workouts (adult only).
Cancellation policy
Notice of cancellation must be given at least 4 hours before the booking; otherwise, a fee will be retained for Pay As You Go Members and applied to members' accounts at the standard price of the activity.

All leisure users who fail to attend and/or cancel within 4 hours on three occasions within a 30 day period will lose their booking privileges for a month.
See how you can stay connected with us or for all the latest news, info and bookings. 
Download our Teignbridge Leisure App.