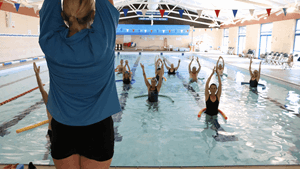 Completely switch off from the outside world with our Aqua Serenity class that takes place in our pool. The relaxation class incorporates stretches with meditation set in a calming environment to uplift your mood and rejuvenate your senses. Your instructor Jenny will support and guide you through the class to give you a complete mind and body workout. 
This class is good for:
Mental wellbeing.

Stress relief. 

Improve recovery.

Enhance results.

Flexibility.

Injury prevention.
Aqua Serenity classes take place at Dawlish Leisure Centre for all levels and abilities, including beginners. All classes are included in the Jam Packed Membership or you can Pay As you Go. 
You can view our full list of Aqua Serenity classes on our Teignbridge Leisure App or viewing our leisure centre timetables:
Please pre-book your class on our app our on your My Profile Account on our website. 
What to expect during the class
It's the perfect balance of mind and body, incorporating stretches with meditation separated into 3 sections with calming tunes. We will have calming music to set the scene and your overall mood on arrival at the pool. Once settled, the music will continue and stretching and meditation will commence.
After one set of stretches the class will go into a float listening to the music and breathing gently. 

Jenny will tap the Triangle to bring you back to the next set of stretches. 

The key here is to come back slowly and keep control of your breathing. 

After the last set of stretches, you will gently swim with or without your woggles. This time Jenny will check on you to make sure you are ok and answer any questions you may have.
Booking your Aqua Serenity Exercise Class?
So, are you ready to relax? Book now! Please pre-book your activity on our app or website. 
Booking privileges:  
Jam Packed Members - ten day booking privilege.

Pay As You Go Members - seven day booking privilege.
Aqua Serenity is to be booked on our Teignbridge Leisure App or on your My Profile Account. 
Our Pay As You Go prices are available on our price list. 
When to arrive
At least 5 minutes before the class start time to get yourself set up and ready.
We have free centre parking for all users for up to a maximum of three hours. 

On arrival, please self-swipe at the self-swipe scanners - This informs our system you have attended the booked session. 
Changing facilities and lockers are available.
You can purchase a locker token from reception. Please note, we are only accepting card payments. No cash.
What to bring to a class
We provide all the equipment for you to enjoy a stress-free workout. However, if you wish to bring your own woggle, you can.
What you'll need to bring
Lots of energy and a smile.

A friend to relax with. 

A water bottle – water stations are available to refill.

Swimwear.

A change of clothes and towel.

Changing rooms and showers are available for you to use before and after your class. You can purchase a locker token from reception. Please note, we are only accepting card payments. No cash.
Cancellation policy
Notice of cancellation must be given at least 4 hours before the booking; otherwise, a fee will be retained for Pay As You Go Members and applied to members' accounts at the standard price of the activity.

All leisure users who fail to attend and/or cancel within 4 hours on three occasions within a 30 day period will lose their booking privileges for a month.
See how you can stay connected with us or for all the latest news, info and bookings. 
Download our Teignbridge Leisure App.