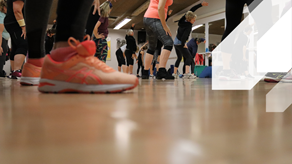 Bollywood dance fitness is an expressive form of movement based around the glitzy, glamorous Bollywood Indian film industry movies. It is set to the music from the Bollywood movies and r and b versions of Bhangra tunes. It's tongue in cheek and lots of fun. Classes are adaptable to suit all levels and abilities for participants wanting a low impact workout (The Indian dance hand gestures used are great for people with arthritic conditions in the hands and wrists) and also for those who prefer a higher impact, more energetic workout.
What to expect
Bollywood dancing can be challenging to pick up at first and is not for the faint-hearted. However, its fast-paced energy is well worth some initial effort and hard work. Although teaching styles vary, early lessons may feature a range of musical accompaniments, from Bollywood film songs to R 'n' B and remixes of traditional Bhangra folk songs. Classes generally start with some slower warm-up routines but often burst into life at short notice. Be prepared for anything and make sure you have plenty of energy before you begin.
When starting out in Bollywood dancing, you may be concerned about embracing a different type of class, which you have no previous experience of. Fear not, though. Bollywood classes are designed for everyone and feature a wide range of people from all age groups and ability levels. When it comes to clothing, please don't feel the need to wear anything too elaborate; jogging bottoms and a t-shirt will do it.
Bollywood Dance Fitness classes take place at Newton Abbot Leisure Centre for all levels and abilities, including beginners. All classes are included in the Jam Packed Membership or you can Pay As you Go. 
You can view our full list of Stretch classes on our Teignbridge Leisure App or viewing our leisure centre timetable:
Please pre-book your class on our app our on your My Profile Account on our website. 
Booking your Bollywood Dance Fitness class?
Ready to try something different? Book now! Please pre-book your activity on our app or website. 
Booking privileges:  
Jam Packed Members - ten day booking privilege.

Pay As You Go Members - seven day booking privilege.
Bollywood Dance Fitness is to be booked on our Teignbridge Leisure App or on your My Profile Account.
Our Pay As You Go prices are available on our price list. 
When to arrive
At least 5 minutes before the class start time to get yourself set up and ready.
We have free centre parking for all users for up to a maximum of three hours. 

On arrival, please self-swipe at the self-swipe scanners - This informs our system you have attended the booked session. 
Changing facilities and lockers are available.
You can purchase a locker token from reception. Please note, we are only accepting card payments. No cash.
What to bring to a class
We provide all the equipment for you to enjoy a stress-free workout. There are cleaning materials available for you to clean your workout areas before and after - you can bring your own if you wish. 
What you'll need to bring
Lots of energy and smile.

A friend to laugh with, challenge each other to push a little more and motivate during those hard times.

A water bottle – water stations are available to refill.

Appropriate sportswear, for example, shorts, a t-shirt, leggings and trainers.

A towel – to wipe away all the stress after a fantastic workout.

Changing rooms and showers are available for you to use before and after your class. You can purchase a locker token from reception. Please note, we are only accepting card payments. No cash.
Cancellation policy
Notice of cancellation must be given at least 4 hours before the booking; otherwise, a fee will be retained for Pay As You Go Members and applied to members' accounts at the standard price of the activity.

All leisure users who fail to attend and/or cancel within 4 hours on three occasions within a 30 day period will lose their booking privileges for a month.
See how you can stay connected with us or for all the latest news, info and bookings. 
Download our Teignbridge Leisure App.