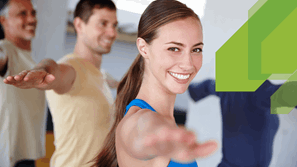 Refresh and invigorate from head to toe with our mind and body classes achieved through stretch, balance and stability. Our Mind and Body classes are designed to give you a workout and a sense of total well-being. Mind and Body exercises can help reduce your stress levels and improve posture, balance and flexibility. The classes will leave you feeling calm and centred.
All mind and body exercise classes are included in the Jam Packed Adult Membership or you can Pay As You Go. Members can book ten days in advance and Pay As you Go members seven days in advance.
We have mind and body exercise classes at all three of our leisure centres, Newton Abbot Leisure Centre, Broadmeadow Sports Centre and Dawlish Leisure Centre with fully qualified and experienced instructors to support and guide you. 
Types of mind and body exercise classes
A form of exercise that combines body movement, mental focus, and controlled breathing to improve strength, balance, flexibility, and overall health. Our mind and body classes: 
Please note, activities can be centre specific. Please check the location of your activity before booking. 
Benefits of mind and body
A variety of calming and empowering mind-body exercises have been proven to help people: 
Decrease anxiety and stress.

Decrease pain. 

Enhance sleep. 

Decrease the use of medication.

Reduce recovery time.

Strengthen the immune system and enhance the ability to heal.

Increase sense of control and well-being 
Book your mind and body class with us and harness the power of the mind-body connection 
Working out with us 
Already a member? 
All exercise classes are included in the Jam Packed Adult Membership. Water-based exercise classes are included in the Jam Packed and Aquacize Membership. Pay As you Go members and Aquacize members can upgrade to a Jam Packed Membership or Pay As You Go to participate in all our dry-side exercise classes. 
Not a member? 
Our fantastic membership packages offer a range of activities to help you achieve your goals. 
Not ready for a membership? You can create a free Pay As You Go Member Account. 
Our Pay As You Go prices are available on our price list. 
Booking 
Please pre-book your exercise class on our app or website. 
For our centre timetables, download our app or select your preferred centre: 
Booking privileges:  
Jam Packed - ten day booking privilege.

Pay As You Go Members - seven day booking privilege.
Please book on the Teignbridge Leisure App or your My Profile account. 
Our Pay As You Go prices are available on our price list. 
What to bring to a class
We provide all the equipment for you to enjoy a stress-free workout. However, you can bring your own mat if you wish. There are cleaning materials available for you to clean your workout areas before and after - you can bring your own if you wish. 
What you'll need to bring
Lots of energy and smile.

A friend to laugh with, challenge each other to push a little more and motivate during those hard times.

A water bottle – water stations are available to refill.

Appropriate sportswear, for example, shorts, a t-shirt, leggings and trainers.

A towel – to wipe away all the stress after a fantastic workout.

Changing rooms and showers are available for you to use before and after your class. You can purchase a locker token from reception. Please note, we are only accepting card payments. No cash.
When to arrive
At least 5 minutes before the class start time to get yourself set up and ready.
We have free centre parking for all users for up to a maximum of three hours. 
Please prebook your session on our app or website and self-swipe on arrival - This informs our system you have attended the booked session. 
Changing facilities and lockers are available. A locker token is available from reception. Please note, we are only accepting card payments. No cash.
Fitting exercise into your life is crucial. Finding time for fitness has been proven to reduce illness and boost well-being. But not all exercise is the same. Weight training, swimming, running, or cycling offer known cardiovascular and physical benefits. But, as stress takes over more space in our modern lives, the benefits of mind body exercises like yoga, Pilates, Yogalates, and Yin Yoga can't be underestimated. Adding a few of these in your weekly or monthly rotation will only help by promoting inner mental focus, concentrating on muscular movements, synchronizing these movements with breathing patterns, and focusing on form and alignment of the body.
Cancellation policy
Notice of cancellation must be given at least 4 hours before the booking; otherwise, a fee will be retained for Pay As You Go Members and applied to members' accounts at the standard price of the activity.

All leisure users who fail to attend and/or cancel within 4 hours on three occasions within a 30 day period will lose their booking privileges for a month.
See how you can stay connected with us or for all the latest news, info and bookings. 
Download our Teignbridge Leisure App.