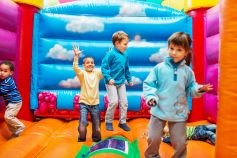 Are you looking for a fun way for your children to burn off steam? This School Holiday, we are blowing up the castles and running inflatable sessions across all our Leisure Centres. These hourly drop-in sessions are included in the Jam Packed Junior Membership or you can pay as you go per hour if not a member!
Alongside the bouncy castles, we will run sports games activities, so your little one will not get bored. If they are not bouncing and having the best time, they will be running around learning new sports! – These sessions will also be a good opportunity for your child to make friends and burn off energy.
Hour sessions: £5.00 / £4.20* or it is included in the Jam Packed Junior Membership. 




ALL sessions are suitable for 3 - 12 year olds.




ALL under 8's must be supervised by a responsible adult.
Booking your Junior Activities
Booking your activity is simple! First, you must have an active account with us. This can be a Jam Packed Junior Membership or a Pay As You Go Junior Account. Once you have your account, you can log in as your child on our app or your My Profile Account and book.
---
Be a Jam Packed Junior Member!
Go all-inclusive with a Jam Packed Junior Membership! Here is what is included in your membership:
Supervised Junior Gym
Public Swimming
Group Exercise Classes
Swimming Lessons
Swimming Crash Courses
10 Day Booking privileges
View full membership benefits and sign up!
Direct debits are rolling zero contract monthly payments with the option to cancel or freeze at any time!
Download our Teignbridge Leisure App.