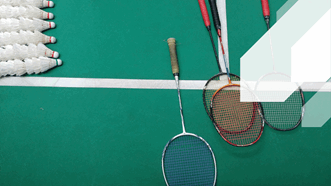 If you're looking to switch up your usual fitness regime and get away from the gym, have you thought of trying badminton, table tennis or squash? Racket sports can be a fantastic alternative. It provides a heart-racing workout, excellent health benefits and can be played socially as well as competitively.
We have sports halls at all three of our leisure centres, Newton Abbot Leisure Centre, Broadmeadow Sports Centre and Dawlish Leisure Centre which can support badminton, table tennis, pickle ball and short tennis. Squash is available at Broadmeadow Sports Centre only. 
All you'll need is some trainers and your usual workout gear to get started. You can either hire racket sports equipment in our centres or bring your own.
Our Racket Sports are available to both members and Pay As You Go Users. The court hire is included in the Jam Packed Memberships. These need to be pre-paid when booking for Pay As You Go Users or Aquacize members. 
Benefits of playing racket sports
Racket sports offer many benefits ranging from increasing life expectancy and mobility to promoting heart health and exercise for all ages and abilities.
Find out more about the benefits of introducing racket sports as part of your weekly fitness regime right here:
A total body workout.

Socialising with friends or making new like-minded friends.

Improve your overall mental wellbeing.

Build a healthy heart.

Reduce stress and decrease health risks.

Improved mobility.

Child friendly - a perfect family activity.

Available to all levels and abilities.
What are you waiting for? Contact a member of the team to book your court. 
Booking your court
Please help us to book you in quickly.
To book a court and play a racket sport, sign up for a Jam Packed Membership or create a free Pay As You Go Account. It is important before calling; you create an account with us - this will help us book you in quicker when you call us to book your court. 
Squash is only available at Broadmeadow Sports Centre. Two courts are available. All booking times run from the hour, 20 or 40 minutes past the hour. 
Our Pay As You Go prices are available on our price list. 
Membership benefits
Go all-inclusive with a Jam Packed Adult Membership.
As an all-inclusive Member, you will benefit from the following:
Gym (to include gym induction and journey appointments).

Exercise Classes (dry and pool).

Public Swimming.

Sauna and Steam Room (16+).

Indoor Racket Sports Court (share), including squash and badminton.

Sports Courses - Trampolining / Swimming Lessons.

Outdoor Swimming - Teignmouth Lido.

Entry to Shaldon Approach Golf.

Advanced Booking Privilege: 10 days in advance for members.

Online Classes and On Demand Workouts (adult only).
Download our Teignbridge Leisure App.