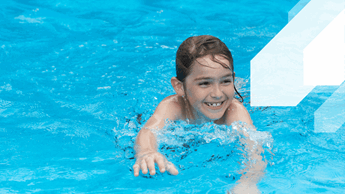 We offer a variety of swimming sessions to suit all ages and abilities. Whether you're a seasoned swimmer or just starting out, we have something for everyone.
Adult swim sessions
Our adult swim sessions are perfect for those looking to improve their technique and fitness in a relaxed and friendly environment. With lanes dedicated to different speeds, you can take your time or challenge yourself to swim faster and further.
---
Family swim sessions
For parents with young children, we have parent and baby swimming sessions where you can introduce your little one to the water in a safe and supportive environment. 
---
Swimming lessons
We also offer children's swimming lessons for all ages and abilities. Our qualified instructors use a variety of fun and engaging activities to help children develop their confidence and swimming skills. From beginner classes to advanced swim squads, we can help your child progress and achieve their swimming goals.
---
Water-based group exercise classes
For those looking for a more intense workout, we offer aqua aerobics sessions. These low-impact classes are perfect for improving cardiovascular fitness, toning muscles and burning calories. The water resistance also helps to reduce the risk of injury, making it a great choice for those with joint problems.
So, whether you want to swim for leisure or fitness, we have the perfect session for you. 
---
Swimming with us
With flexible membership options and a supportive community, you'll find the motivation and encouragement you need to stay on track and reach your full potential. Come visit us and see how swimming and water-based exercise classes can help you transform your body and your life. If you are ready to get started, you can sign up for a membership or Pay As You Go account today.
Direct debits are rolling zero contract monthly payments with the option to cancel or freeze at any time!
---
Once you have your account
You can now book your swim sessions with us on our app or by logging into your My Profile Account. 
---
When to arrive
Please arrive at least 5 minutes before the activity start time to get yourself checked in, changed, items stored in the lockers and showered before entering the pool.
If you have pre-booked your activity
On arrival, please self-swipe at the access gates by reception with either your in-app or member card. You will need to scan for each individual booked. 
If you have not pre-booked your activity
Please visit reception to book and pay. Please note we are only accepting card payments. No cash.
Changing facilities and lockers are available.

Please remove footwear before entering the changing facilities and shower before entering the pool.

You can purchase a locker token from reception. Please note that we are only accepting card payments. No cash.
Pool Supervision 
Supervision of children: A responsible adult 16+ may bring 2 children under the age of 8 but only 1 of those children can be under 5. The adult must be in the water with the children at all times.