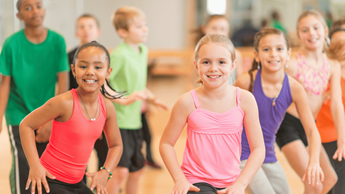 Our friendly and experienced instructors will be on hand to induct, guide and develop your child's ability to ensure they get the most out of their workout. Our exercise classes will teach your child the exercise basics and build your child's coordination, confidence, social skills, and more importantly, having fun with the aim to improve and develop a healthy and active lifestyle. 
All junior exercise classes are included in the Jam Packed Junior Membership. Junior members have priority booking on all exercise classes. Ten days for members and Seven days for pay as you go members. 
Junior Group Exercise classes
Junior group exercise classes are available at Newton Abbot Leisure Centre, Broadmeadow Sports Centre and Dawlish Leisure Centre. Select a sport or exercise class for more information: 
Click a sport for more information, including days, times and location.

| | |
| --- | --- |
| Exercise Class | Description |
| Basketball | Basketball will not only improve flexibility but improve social skills, teamwork as well as fine motor skills and hand-eye coordination. |
| Circuits | Circuits is aimed at children who want to improve strength, speed, power and endurance through various activity-based stations within a fun and safe environment. |
| Dodge ball | Dodge ball is a classic game that has been enjoyed by generations of children. It's a game that requires speed, agility and quick reflexes, making it a great way to get active and have fun. At its core, dodge ball is a game of throwing and dodging. |
| Football | Junior Football sessions are aimed at introducing different skills and gameplay to children. It will develop coordination, ball skills and teamwork. All abilities are welcome.  |
| Gymnastics | The gymnastics sessions are split into three sessions; Teigny Tots (4-6 years), Rumble Tumble *6-8 years) and Move with a Difference (8-14 years). The Sessions will increase your child's coordination and social skills. |
| Multi-Sports | These sessions aim to introduce different sports to children aged 5-8 years and 8-11 years. Multi-Sports will develop coordination and teamwork in a fun atmosphere. All abilities are welcome. |
| Octopush | This session is for participants older than 12 years and who play Octopush regularly. These sessions will improve the underwater game by working on drills, skills and gameplay. |
| Racket Sports | This session is aimed at all abilities. It will encourage teamwork, hand-eye coordination and social skills whilst teaching you how to play badminton. All equipment will be provided.  |
| Junior Gym | Supervised Junior Gym is a great way to introduce children aged 11-13 years to a gym environment. This is a  supervised session with a qualified instructor on hand to support, offer advice, motivation and programme development.  |
| Trampolining |   |
---
Booking your activity
To ensure a seamless booking experience, we kindly request that customers book their children's activities using their child's account on the Teignbridge Leisure app or on their My Profile Account.
Need help? Follow our step-by-step guide to individual and group bookings.
---
Be a Jam Packed Junior Member!
Go all-inclusive with a Jam Packed Junior Membership! As an all-inclusive Junior Member, your child will benefit from the following:

| | |
| --- | --- |
| Supervised Junior Gym Sessions |   |
| Junior Group Exercise Classes |   |
| Swimming Lessons |   |
| Public Swimming, including fun sessions and Aqua Run | View Full List of Benefits |
Visit us or contact a member of the team to get started on becoming a Jam Packed Junior Member. 
Not ready for a membership? 
Not ready for a membership? You can still use us on a Pay As You Go Junior basis and pay per activity. Visit or contact us to set up your Jam Packed Junior Pay As You Go Account. 
Unfortunately, we cannot sign juniors up online. Please contact a member of our team to get you started. 
---
Download our Teignbridge Leisure App.