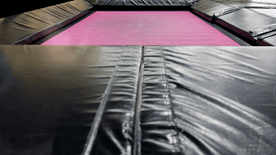 Stay active and have fun at the same time. From complete beginner to advanced competition, come and improve your stamina, coordination, build strong muscles and bones and learn cool moves in the process - Jumping on trampolines is tons of fun!
All skill levels welcome, from beginner to advance. Our instructors will support each participant through the different stages for a safe and fun experience. 

Please bring a pair of socks to wear whilst taking part in the sessions. 
All adult exercise classes are included in the Jam Packed Adult Membership.
Pay As You Go Options are available. 
Adult members have priority booking on all exercise classes.
Ten days for Jam Packed Junior members.

Seven days for pay as you go members. 
Booking your Trampolining session. 
Are you ready? You can book in on our Teignbridge Leisure App or on your My Profile Account. 
I'm new to a adult activity. 
Joining us is so easy. You can either sign up online, call us or visit one of our centres. 
I've been with you before.
If you have been with us before, please log in on the Teignbridge Leisure App or on your My Profile Account.
Membership benefits.
Go all-inclusive with a Jam Packed Adult Membership.
As an all-inclusive Adult Member, you will benefit from the following:
Gym 

Gym journey 

Exercise classes (dry and pool)

Public swimming 

Sauna and steam room (16+)

Indoor racket sports court 

A sports course:

Outdoor Swimming - Teignmouth Lido.

Entry to Shaldon Approach Golf.

Member App

On-Demand Workouts (adult only).

Advanced Booking Privilege: 10 days in advance for members.
Join us and become a Adult member. 
What other Adult activities are available? 
It does not stop here. We have several other Adult activities that may interest you, taking place across our three leisure centres and are included in the Jam Packed Adult Membership. Click here for our full list of Adult exercise classes or by selecting your preferred leisure centre:
Download our Teignbridge Leisure App.